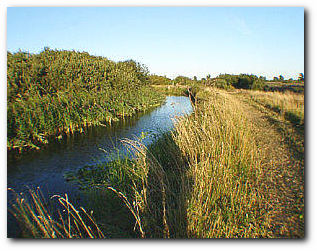 There's a hide from which to view the bird life on the fenland washes close by which is the ideal place from which to view or photograph them.

Or you could take a walk by the River Lark along the footpath that leads from Isleham to Prickwillow. There you will find a great variety of interesting and sometime rare, wildlife; fish, birds, insects and other creatures, both feral and domestic.

The village of Isleham is only about a mile away with its Co-op store (open from 7am to 10pm seven days a week), a part-time Post-Office at St Andrew's Social centre, two pubs (The Rising Sun and The Griffin), and The Merry Monkl, a fine dining restuarant, . There are three churches (St Andrew's (C of E), Pound Lane Free Church and The Ark Church. The Beeches Community Centre offers a children's playground, a large recreation ground, and an all-weather surface for tennis Isleham also has a very active Bowls Club. ll all add to the fun and facilities available.